A Visit to Death Row
11/9/2011
Unless something divinely inspired happens, Oregon will soon witness the execution of a prisoner on death row. I know that there are strong and compelling arguments why the death penalty was reinstituted by the states of Oregon and Idaho, but my faith compels me to speak against the scheduled execution of Gary Haugen. I have written a letter to Gov. Kitzhaber to urge him to halt the execution. A visit I made to Death Row in Idaho was yet another experience that supported my belief that we should abolish the death penalty.
Efforts to overturn the Death Penalty in the Oregon-Idaho Annual Conference led me to visit Death Row at the
Idaho Department of Correction
. Through the generous intervention of Donna Boe, Idaho State Representative and member of Pocatello United Methodist Church, I received an invitation to visit Idaho's Death Row.
Each time I have entered a prison, I have been struck by the immediate sense of loss of freedom. My visit to the Idaho Department of Correction Death Row was no different. Traveling with Donna Boe, and her spouse, Roger; and accompanied by Elinor Chehey, Snake River District UMW Social Action chairperson and her spouse, Bob, I was welcomed to the tour of Death Row by Warden Jeff Zmuda. We traveled from the office of Correction in Boise to the site of Death Row. Upon arrival, I was immediately struck by the high fences, sharp razor wire ominously atop foreboding fences. Warden Zmuda checked us in, the sound of heavy doors locking shut behind us.
There are currently 16 Death Row prisoners in Idaho. One woman is on death row in a prison in Pocatello. Fifteen men are kept in this facility, each in his cell, approximately 8 by 10. They remain in their cells for 23 hours of the day in solitary confinement. Inmates are let out of their cells for one hour each day, under heavy guard. They do not participate in group activities or sports, but remain isolated from other death row inmates for security reasons. Each cell has a small window and an opening in the door. Prisoners even eat in their cells, with little human interaction except through indirect means. For death row inmates, there are no programs of learning or programs by which inmates can contribute in a meaningful way.
Showers are allowed 3 times a week. A guard is assigned to escort the prisoner to the shower goes to the cell door, ordering the prisoner to back up to the door, hands behind him. The door is opened and the prisoner is handcuffed and escorted to the shower. Entering the shower, the prisoner again presents his back to the guard who unshackles him and locks the prisoner in the shower. After the shower is completed, the routine is reversed and the prisoner is escorted back to his cell.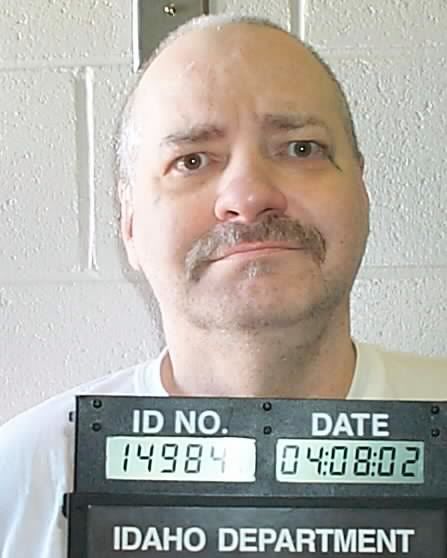 A highlight for me during this tour was the opportunity to meet and talk with one of the prisoners on Death Row. Our party was ushered into a room and Death Row inmate, Tom Creech was escorted in. He was handcuffed and shackled, but had willingly agreed to talk with us. Tom has been on Death Row since January, 1983 for killing another inmate. As I understand his story, Tom was first sentenced to death after he was convicted of murdering a person who had raped his wife. He was convicted and sentenced to death. When the Supreme Court overturned the death penalty, Tom's sentence was commuted to two consecutive life sentences. It was during this time that Idaho reinstated the death penalty and Tom was involved in a fight with another inmate. When that inmate died as a result of the fight, Tom was sentenced to death row for the second time in his life.
Tom shared openly with us. I felt a connection with him, one human to another. He was quiet and docile as one might expect from a person in shackles. He has become resolved that he will spend the rest of his life incarcerated. He lives in the shadow of the threat of execution. He has come very close to execution and currently has an appeal of his death penalty pending.
Tom Creech has been married for 14 years. But in that time, Tom and his wife have never held each other. They have been able to talk with each other but always through the glass barrier that separates prisoner from visitor. Physical contact has not been possible since Tom has not been allowed a "contact visit" as per Idaho Department of Correction procedure. I was told that recently, Tom petitioned to be allowed a contact visit with his wife. His request is being considered. If permitted, Tom may be allowed such a visit once a month, but it is considered an extraordinary request that may not be granted.
How is this kind of treatment justified? The prevailing philosophy that guides the Idaho Department of Correction seems to be retributive. Since these prisoners took another committed such a violent crime, they do not deserve to receive any treatment that might be construed as being unduly kind and humane.
This experienced challenged me on two levels. First, that as a United Methodist, I believe that the death penalty is against God's will for humankind. Secondly, I believe that although persons have committed heinous acts of violence, that each person should be treated in ways that allow the possibility of restoration by other humans and by God. I am saddened to believe that a human can be treated in ways that rob him or her so completely of dignity and self-worth.
Recent research demonstrates that not all victims of violent crimes and not all family members of victims want the perpetrator to be punished by death, or robbed of human dignity. Some continue to believe in God's redemptive restorative power that we know in Jesus Christ. To those of us who believe in this way, the hope of abolishing the death penalty and of encouraging efforts to restore those guilty of violent crime are important elements of our call to ministry in Jesus Christ.
I am grateful for the hospitality of the Director of Correction for the State of Idaho, Brent D. Reinke. I felt that both he and Warden Jeff Zmulda were compassionate and caring, while remaining resolute in their commitment to carry out the responsibilities of their respective positions.
There is no scheduled execution for the state of Idaho; although we were told that there may be one in the near future. Our visit with Tom Creech ended with a prayer. I had asked for permission beforehand to hold his hand as we prayed. And as we held hands and prayed, I felt again the connection with another human person, created by God and beloved by God. I hope that he could feel God's love for him through our prayer and our touch.
As we left the prison, I was told by Warden Zmulda that Tom Creech would probably never forget that the moment that he and I prayed together. More importantly, I hope he will never forget that God loves him.
Robert Hoshibata is Bishop of the Phoenix Area of The United Methodist Church and presides over the Desert Southwest Annual Conference. Hoshibata presided over the Oregon-Idaho Conference from 2004-2012 and his blog postings are here for reference.